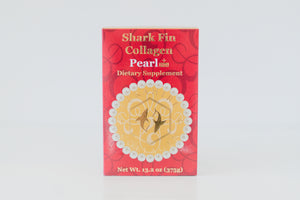 Shark Fin Collagen Pearl Plus
Sale price Price $120.00 Regular price Unit price / per
This luxurious and delicious supplement contains 3000mg of collagen and 1 whole Akoya pearl (powdered) in each pouch. Vitamin C, chondroitin and hyaluronic acid are also added to the formula.
Collagen, chondroitin and hyaluronic acid have a complex effect on maintaining skin beauty and youth, cartilage and joint health, promote cell growth and differentiation, maintain skin elasticity and reduce cholesterol.
Shark fin collagen is 43 times more soluble than animal collagen; the body and goes to build your own collagen easily absorb it.
What is the effect of collagen from shark fin:
- Effective with burns, wrinkles, reduces the number of freckles, age spots and stretch marks on the skin, and restores the skin.
- Moisturizes, nourishes the skin, gives it elasticity and elasticity, gives an even color.
- Improves a hair color, adds them gloss, reduces fragility, strengthens nails.
- Restores cartilage and inter-articular fluid.
- Helps with inflammatory processes in the joints: with arthritis, arthrosis, osteochondrosis, with increased physical exertion, including in athletes.
Chondroitin - the main component of the extracellular matrix that binds together protein molecules and plays a crucial role in maintaining the structure of tissue, is necessary for the synthesis of collagen in the skin.
Natural pearl powder has anti-aging and antioxidant properties, helps to fight depression and stress. It has an antitumor effect, normalizes the reproductive system, contributes to the correction of heart function. The component has a slight sedative effect, and a homeostatic effect is also noted. It has a detox effect.